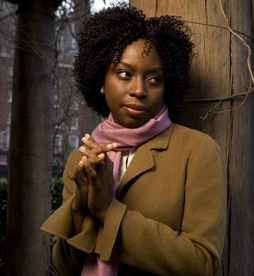 Of her beginnings as a writer, Chimamanda Ngozi Adichie says:
I didn't ever consciously decide to pursue writing. I've been writing since I was old enough to spell, and just sitting down and writing made me feel incredibly fulfilled. (Anya 2003)
By the time she was 21, Adichie had already published a collection of poetry,
Decisions
(1997), and a play,
For Love of Biafra
(1998).
Decisions
, Adichie's first book-length published work, tackles themes such as politics, religion, and love – subject matters also at the heart of her later writing. In this collection, the young author occasionally voices hope for her country's future, but in many of the political pieces she expresses her frustration at Nigeria's struggles, as in the poem "Standstill":
Like a child at a den
Owned by a starved lion,
Or like a thief caught
In petty pilfery,
At a standstill
My country. (23)
Even if the collection reflects Adichie's youthful ingenuousness, some of its texts herald the passionate outspokenness and beautiful rhythmical quality that were to become trademarks of the author's later writing.
In the play For Love of Biafra, published a year after Decisions, Adichie recounts the painful experiences of a young Igbo woman, Adaobi, and her family, at the time of the Nigerian civil war of the late 1960s. The family's initial optimism about the creation of an independent and peaceful Biafran nation in Eastern Nigeria, after the region's secession from the rest of the country, ends in disillusionment. Daily massacres, hunger and disease claim several members of Adaobi's family and shatter the Biafran hopes.
Although Adichie was born seven years after the war ended, she states that she "ha[s] always felt a deep horror for all the bestialities that took place and great pity for the injustices that occurred" (Adichie 1998: viii). Her imaginative recreation of the events seems to suggest that the war has utterly, and perhaps permanently, affected the identity of generations of Igbo people. This indelible mark is strongly felt by the heroine Adaobi, even after the Biafran surrender. She rejects her Hausa boyfriend, who was away in England during the war:
Mohammed, I am a Biafran first, a Biafran last, a Biafran always, don't ever make the mistake of calling me a Nigerian again. (Adichie 1998: 106)
Adichie later called her play "awfully melodramatic" (2006b), but this early work testifies to her continuing preoccupation with the Nigerian civil war, a theme that she also explored in several short stories, including "That Harmattan Morning" (2002) and "Ghosts" (2004), and which she was to tackle again in her award-winning novel,
Half of a Yellow Sun
(2006).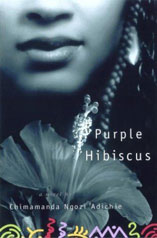 Adichie's first novel, Purple Hibiscus, was published to critical acclaim in 2003. Set in Nigeria against the background of the political turmoil of the late 1990s, the story centres on Kambili Achike, a fifteen-year-old schoolgirl, and her family. Kambili's father, Eugene, is an ambiguous man: a devout Catholic and a political rights activist, he also rules his household with a heavy hand. The narrative, told from the perspective of young Kambili, explores the teenager's and her brother Jaja's responses to their father's authoritarian attitude, as alternative models are provided by their more liberal aunt Ifeoma and their Igbo traditionalist grandfather, whom Eugene dismisses as a "heathen". Family, religion, politics and tolerance thus emerge as central themes in Adichie's outstanding debut novel.
Adichie's second novel, Half of a Yellow Sun, was published in late 2006. Anticipated by both critics and avid readers of African literature at the time of its release, the book rapidly became one of the UK's best-selling works of fiction when it was featured on Richard and Judy's Bookclub on Channel 4. It subsequently earned several prestigious literary awards, among which the Orange Broadband Prize for Fiction (2007).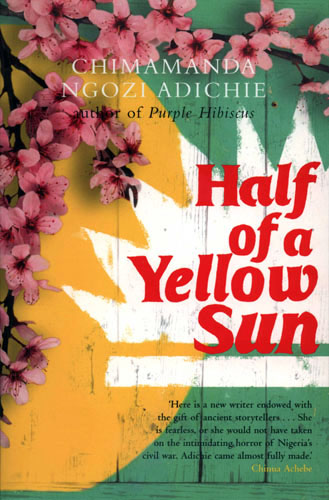 Half of a Yellow Sun, which is set before and during the Biafran war, is told from the perspectives of three different characters: Ugwu, a teenage boy who, at the beginning of the narrative, arrives in the university town of Nsukka, in south-eastern Nigeria, to work as a houseboy for Odenigbo, a mathematician who lectures at the local university; Olanna, a rich and educated young woman who becomes Odenigbo's wife; and Richard, a white Englishman who is obsessed with the roped pots of Igbo-Ukwu art and falls in love with Olanna's twin sister, Kainene. The novel raises political questions as well as many challenging gender-, race- and class-related issues, but it also provides a sensitive portrayal of the characters' individual aspirations and emotional ties to each other. While Adichie does not shy away from depicting the devastating effects of the Biafran conflict, she also shows her reader that people not only die, but also live, love and dream, in times of war.
Since the early stages of her career, Adichie has celebrated Nigeria's intellectual vigour and cultural wealth, while also displaying a keen awareness of the problems that have plagued her country over the decades. She has also often explored the challenges faced by her compatriots outside Nigeria, as another major theme running through her work has been Nigerian immigration to the United States, which she has often tackled from the perspective of female protagonists. In her short fiction, Adichie has frequently featured young women who wish to seek happiness in America, but who must face the harsh realities of Nigerian or immigrant life instead. In the stories collected in The Thing around Your Neck (2009), Adichie's female characters go through humiliating visa procedures ("The American Embassy"); they have to negotiate marriages to obnoxious husbands ("The Arrangers of Marriage") or deal with unfaithful ones ("Imitation"); and they are victims of sexual abuse, encounter racism, and experience financial difficulties ("The Thing Around Your Neck"). In this collection, gender is also explored through a range of other lenses, including same-sex attraction and homosexuality ("On Monday of Last Week", "The Shivering"), violence and masculinity ("Cell One"), and sibling relationships ("Tomorrow is Too Far").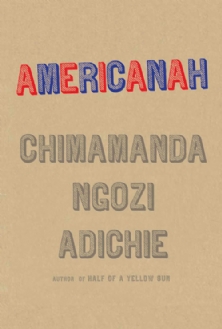 Most of the stories in The Thing around Your Neck are set either in Nigeria or the United States, two locations that also play a key role in Adichie's novel Americanah (2013). The narrative opens as its heroine, Ifemelu, is about to return to Nigeria after spending thirteen years living in the United States. Ifemelu is the author of a successful lifestyle blog dealing with issues of race and culture, but she decides to close her site to go back to the country where she feels she truly belongs – a return that may also offer the possibility of reconnecting with her first love, Obinze, now a husband and father.
Americanah might be regarded as a generic hybrid, somewhere between the love story and the socio-political novel. It subtly explores the emotional consequences of geographical separation, and it offers a deft and humorous portrayal of two countries, the United States and Nigeria, which must each negotiate the social and cultural demons that they have inherited from their vastly different histories.
Works Cited
Adichie, Amanda N., Decisions (London: Minerva Press, 1997).
---, For Love of Biafra (Ibadan: Spectrum Books, 1998).
Adichie, Chimamanda Ngozi, Purple Hibiscus (Chapel Hill: Algonquin Books of Chapel Hill, 2003).
---, 'Ghosts', Zoetrope: All Story 8.4, Winter 2004, pp. 36-43. Also published in the collection The Thing around Your Neck (2009), pp. 57-73.
---, Half of a Yellow Sun (London: Fourth Estate, 2006).
---, The Thing around Your Neck (London: Fourth Estate, 2009).
---, Americanah (London: Fourth Estate, 2013).
'In the Footsteps of Achebe: Enter Chimamanda Ngozi Adichie, Nigeria's Newest Literary Voice', Interview by Ikechukwu Anya, Nigerians in America, October 2003.
© 2004-2017 Daria Tunca. Please do not reproduce without permission.
| | | |
| --- | --- | --- |
| | Page hosted by the University of Liège | |